---
Painting Warhammer: Blades of Khorne
Khorne Blood Warriors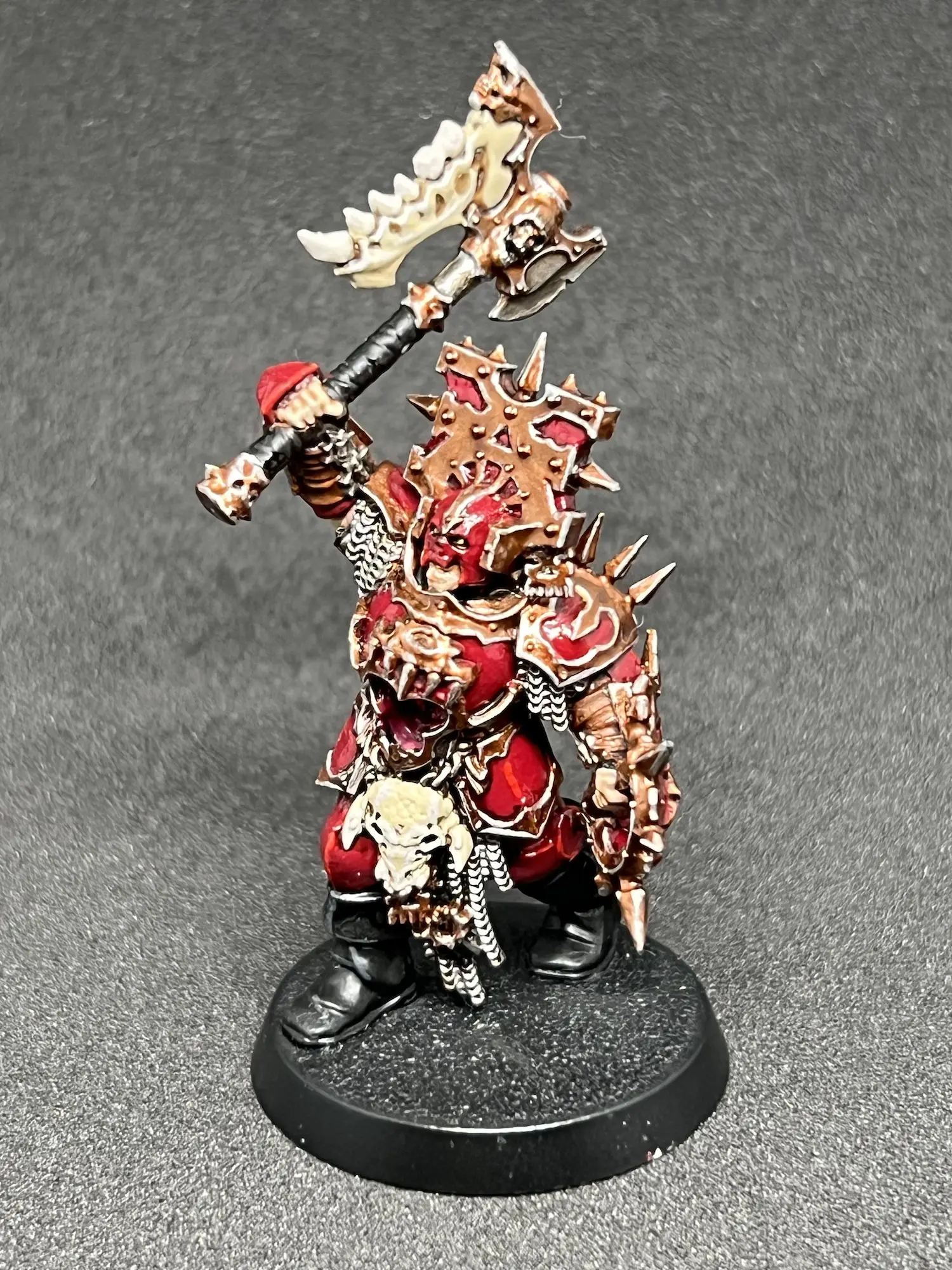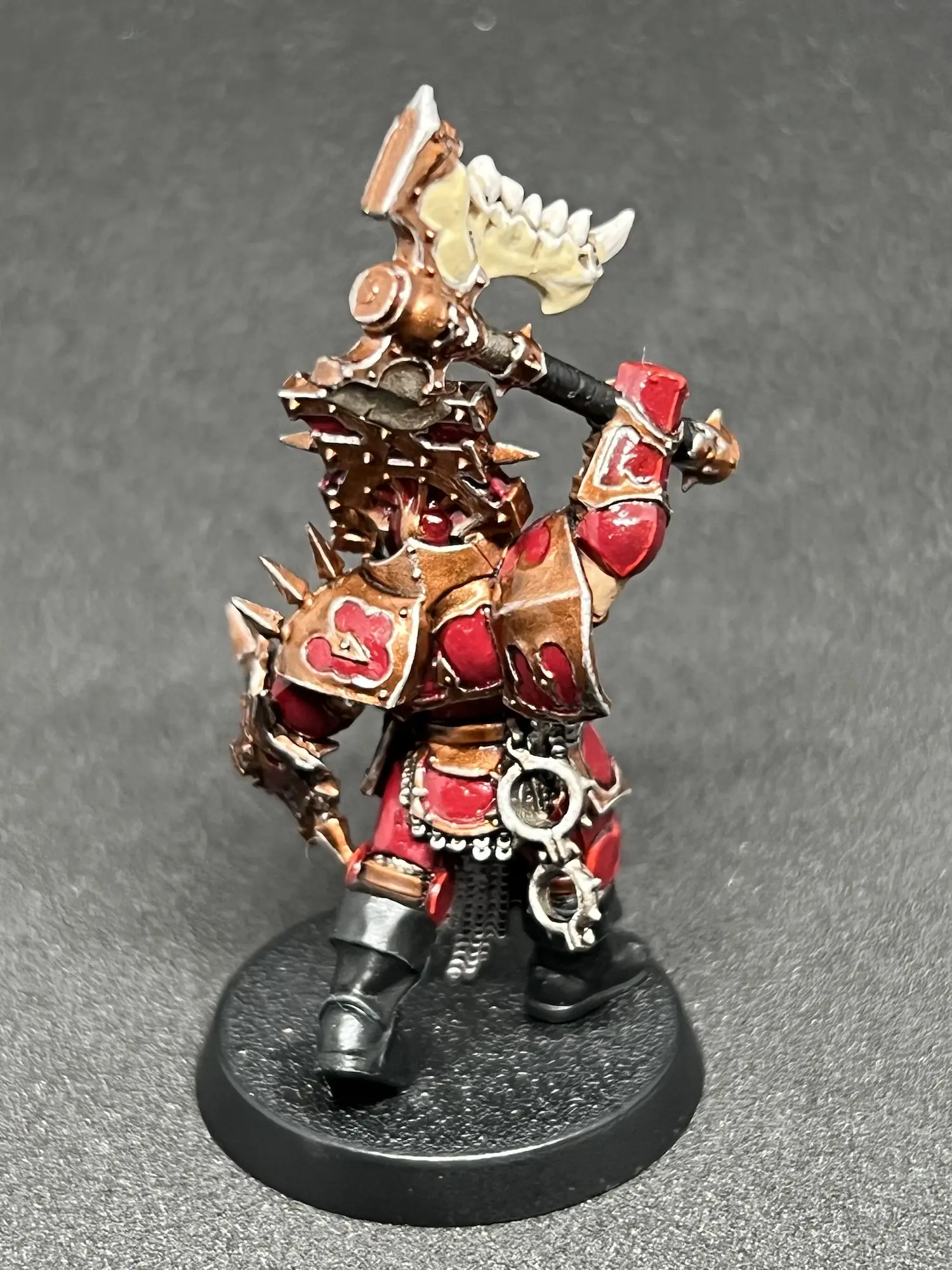 Primer: Vallejo Surface Primer, Black
Base Colors
Balthasar Gold — gold elements
Khorne Red, alternatively Mephiston Red — red elements
Leadbelcher — silver elements
Abaddon Black — haft, boots
Mournfang Brown — leather, straps
Zandri Dust — bones

Shade Agrax Earthshade over colors above

Rakarth Flesh, Flayed One Flesh — skin1
Screamer Pink — belly

Shade Reikland Fleshshade over colors above
After the shade settles re-apply Khorne Red, Flayed One Flesh avoiding recesses.
Layer Colors
Runefang Steel — gold and silver elements
Evil Sunz Scarlet — red elements, belly
Eshin Grey — black elements
Skrag Brown — brown elements
Ushabti Bone — bones
Pallid Wych Flesh — skin, 2nd bones highlight
Flash Gitz Yellow — eyes
Varnish
Glossy — Citadel Technical Ardcoat for the armor
Matt — Vallejo Acrylic Varnish for everything else
Citadel Technical Ardcoat adds a wet look to the miniature, which does not really look good, so I avoid using it anymore.
Bloodreavers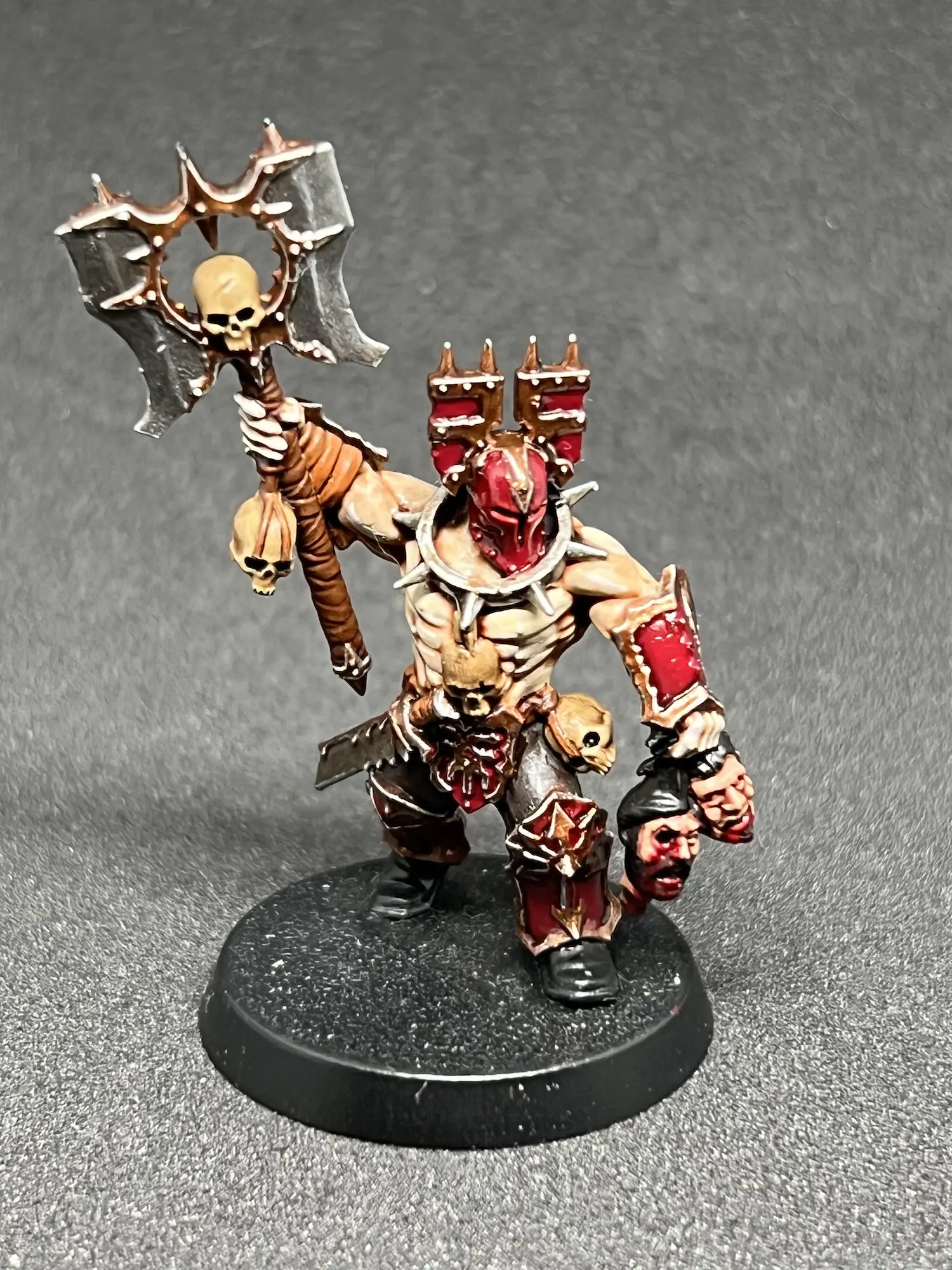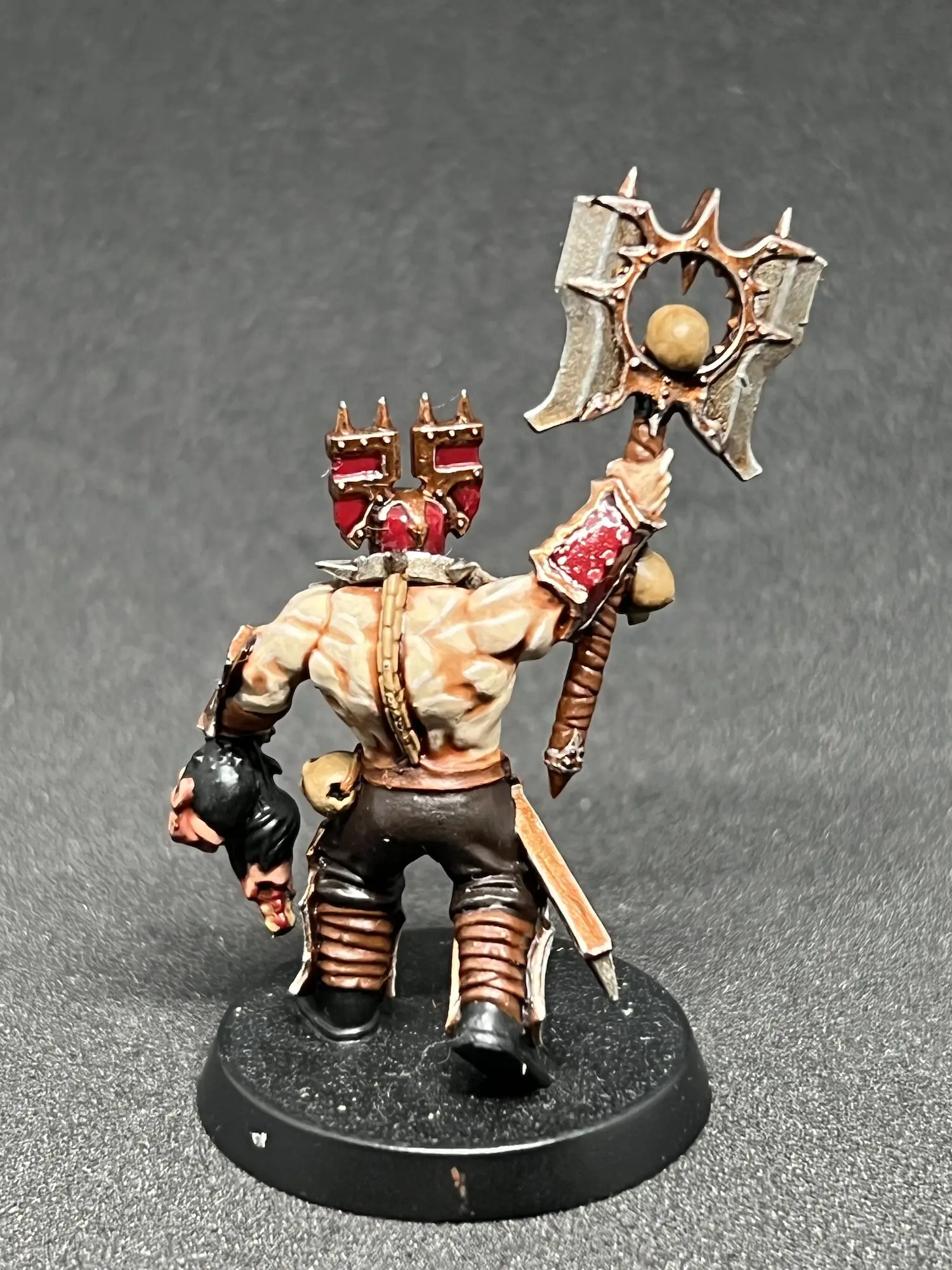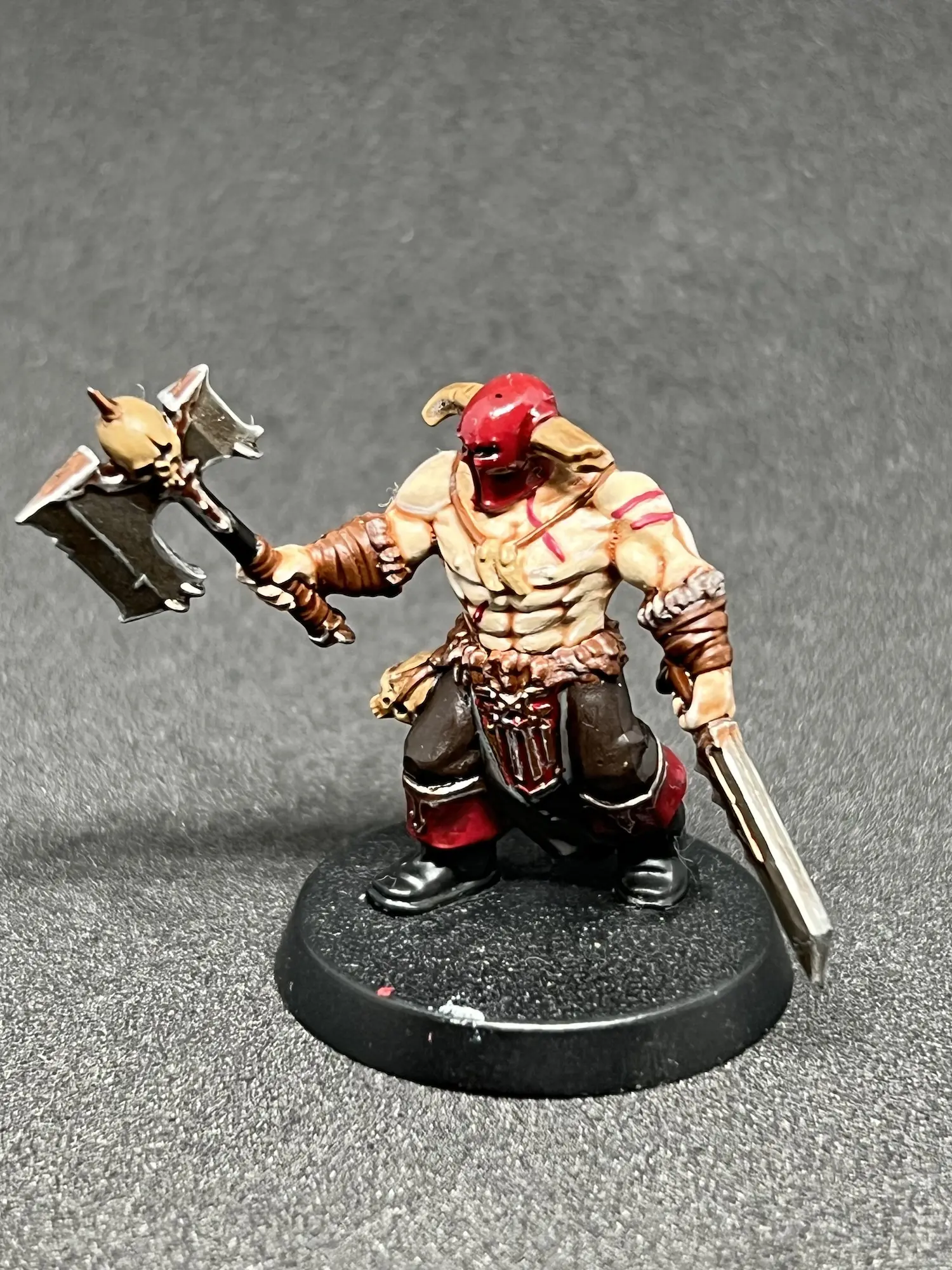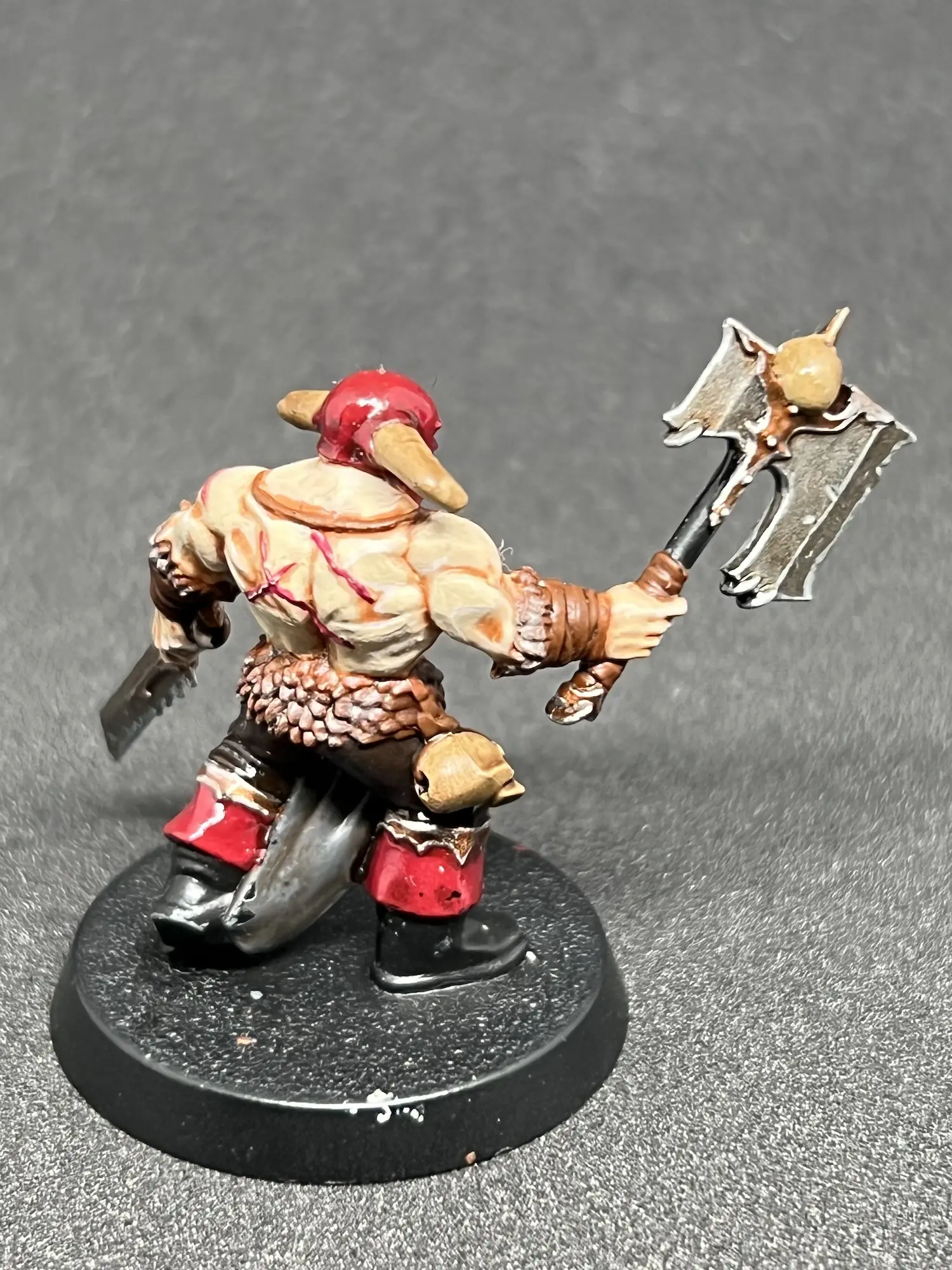 Primer: Vallejo Surface Primer, Black
Base Colors
Rakarth Flesh, Flayed One Flesh — skin1

Shade Reikland Fleshshade

Screamer Pink — scars
Balthasar Gold — gold elements
Khorne Red, alternatively Mephiston Red — red elements
Leadbelcher — silver elements
Mechanicus Standard Grey — tabard
Rhinox Hide — trousers
Mournfang Brown — leather, straps
Abaddon Black — hafts, boots
Zandri Dust — bones

Shade Agrax Earthshade over colors above
After the shade settles re-apply Khorne Red on red parts, Flayed One Flesh on skin avoiding recesses, also on top of the scars.
Drybrushing
Layer Colors
Runefang Steel — gold and silver elements
Evil Sunz Scarlet — red elements
Skrag Brown — brown elements
Dawnstone — tabard
Eshin Grey — black elements
Ushabti Bone — bones
Pallid Wych Flesh — skin, 2nd bones highlight
Details
Trophy heads:
Skin: Bugmans Glow → Reikland Fleshshade → Cadian Fleshtone → Pallid Wych Flesh
Blood: Blood for the Blood God
Varnish
Glossy — Citadel Technical Ardcoat for the armor
Matt — Vallejo Acrylic Varnish for everything else
---
Flayed One Flesh is translucent, since it's a layer color, that's why we apply Rakarth Flesh as a base, and not paint it directly on a black primer. ↩